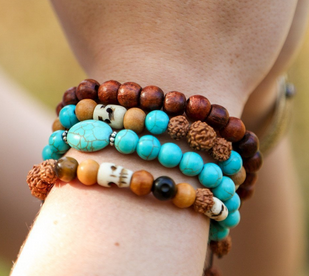 Guru Bling Wrist Mala
Malas are used for keeping count while reciting, chanting or mentally repeating a mantra or the name or names of a deity. This sādhanā (practice) is known in Sanskrit as Japa. Malas are typically made with 18, 27, 54 or 108 beads. In Tibetan Buddhism, malas of 108 beads are used. We have a beautiful collection of unisex one-of-a-kind bracelets—check our Instagram and Facebook for newest products! When they're gone they're gone!
A mala is a string of prayer beads used in spiritual practice or dharma for doing mantra, or japa in many of the world's great spiritual traditions. "Dharma" is each individual's spiritual path; "japa" is open-eyed meditation. Our collection includes Moonstone, Turquoise, Rosequartz, Lava Stone, Lapis and others. We welcome custom orders. Traditionally the mala is held between the thumb and middle finger, and as each bead is passed, the mantra is said quietly or out loud.Repeating mantra is an excellent way of calming the mind and keeping the thought of god in our everyday lives. We hand make all of our jewelry and each piece is unique. Check our Facebook and Instagram newest wrist bling. We lovingly offer mala necklaces, wrist malas and pet malas. Prices vary depending on materials and length.