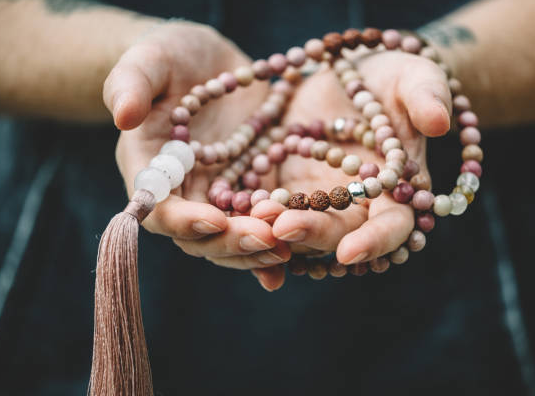 Guru Bling Mala Necklace
Malas, strands of 108 beads plus a "guru" bead traditionally used for meditation and prayer, and combine gemstones imbued with potent energies and sacred meaning to infuse your practice and are wearable both on and off the mat. Your necklace is a tool to help you count mantras, and acts as a tactile guide as you sit in silence.
Amethyst is the stone of spirituality and contentment. It balances the energy of one's intellectual, emotional, and physical bodies.
Garnet enhances internal fire and brings about creative power. It is helpful during feelings of abandonment and brings freshness to one's life.
Granite helps with balance in relationships, fosters cooperative efforts and facilitates diplomacy. It helps increase wealth while allowing the recipient to remain modest.
Jade assists in dream analysis and grants the user a long and fruitful life. It helps with the transition from this body to the spiritual world.
Lapis provides objectivity, clarity, and mental endurance during times of realizing emotions. It also helps with creativity, organization, and with easing depression.
Malachite creates an unobstructed path leading to a desired goal and helps the user accept responsibility for actions and circumstances.
Moonstone fosters balance, introspection, and reflection. It helps deal with emotional, mental, physical, and spiritual changes, and helps in recognizing "ups and downs".
Pearl signifies faith, charity, and innocence. It enhances personal integrity, provides focus, and is used to increase fertility and ease childbirth.
Quartz amplifies body and thought energy. It also brings the energy of the stars to the body.
Rose quartz creates harmony and self-love during chaotic situations. It is the stone of gentle love and brings peace to relationships.
Sandstone builds and strengthens relationships and/or groups. It provides insight into deceit and encourages truth.
Tiger eye brings about clarity when dealing with scattered intellectual fragments. This stone is practical and grounding.
Turquoise heals the spirit with soothing energy and provides peace-of-mind. It holds both spiritual and protective properties, and balances the male and female aspects of one's character.